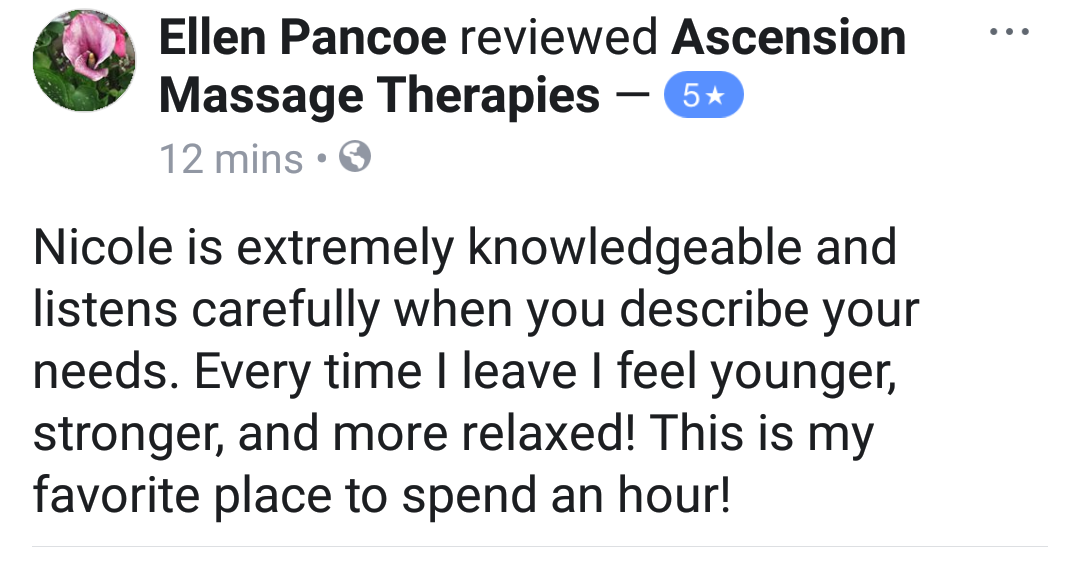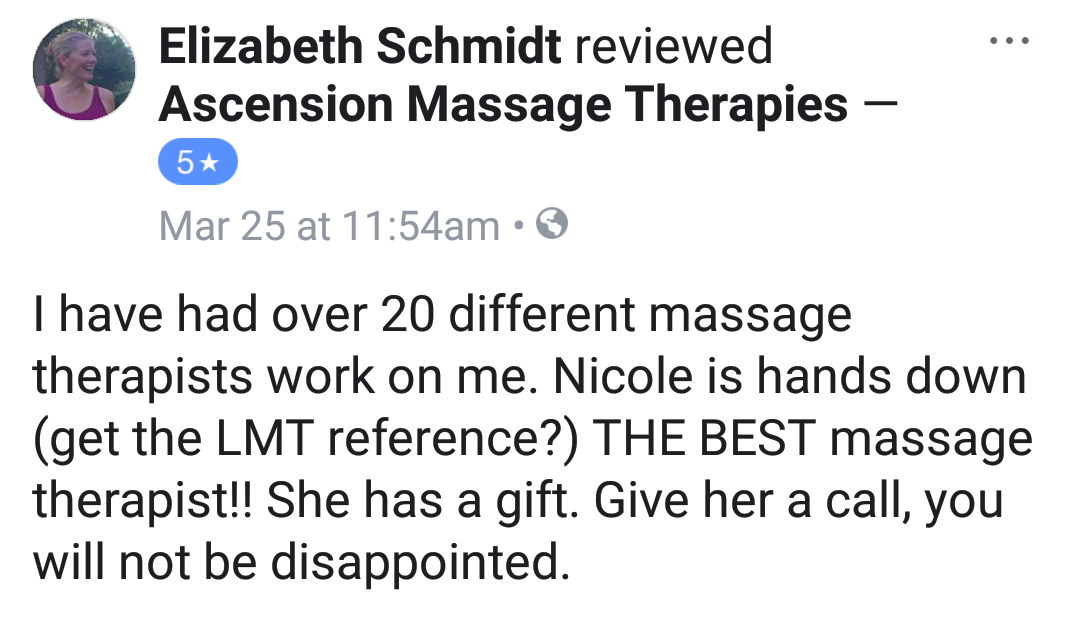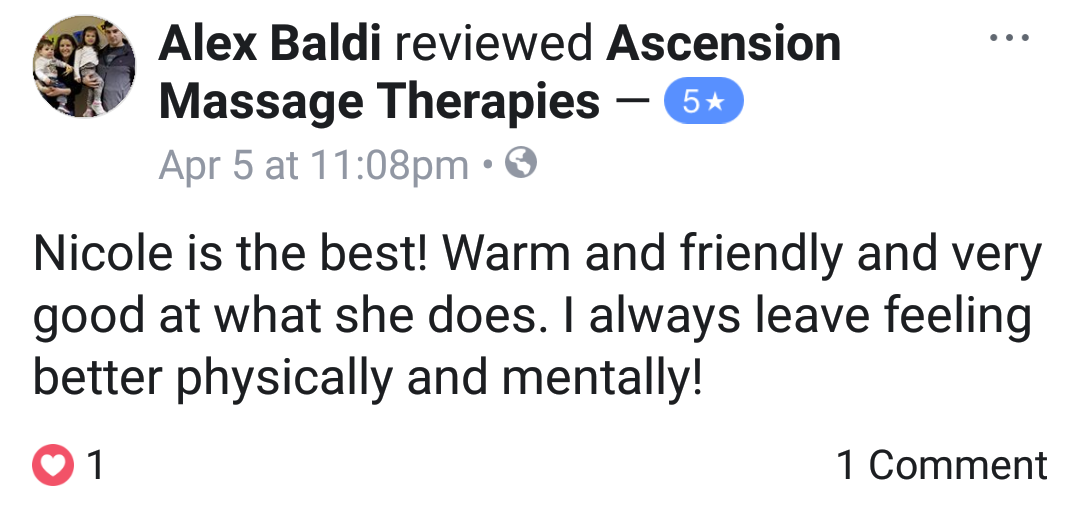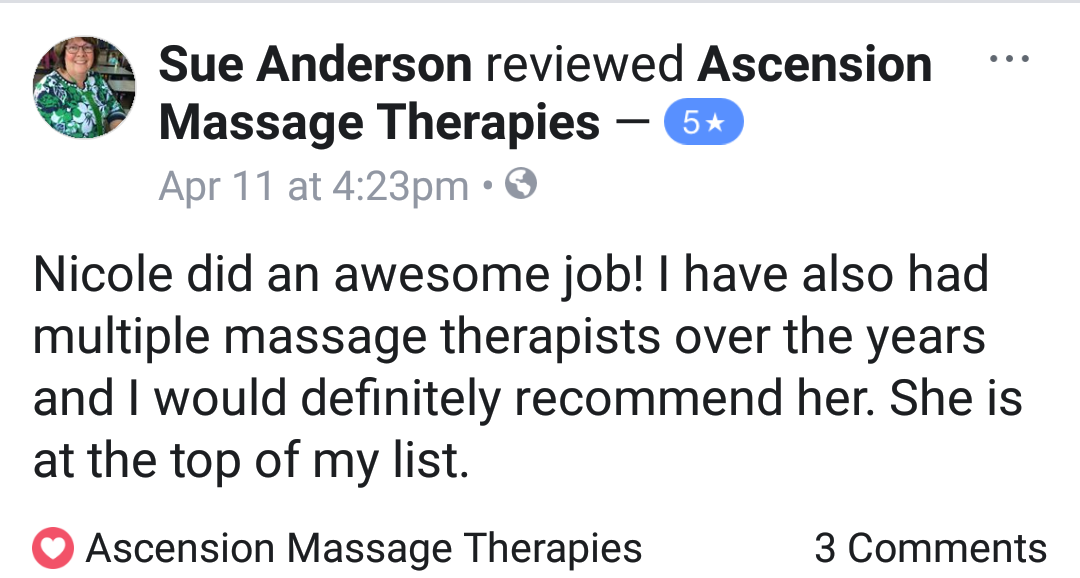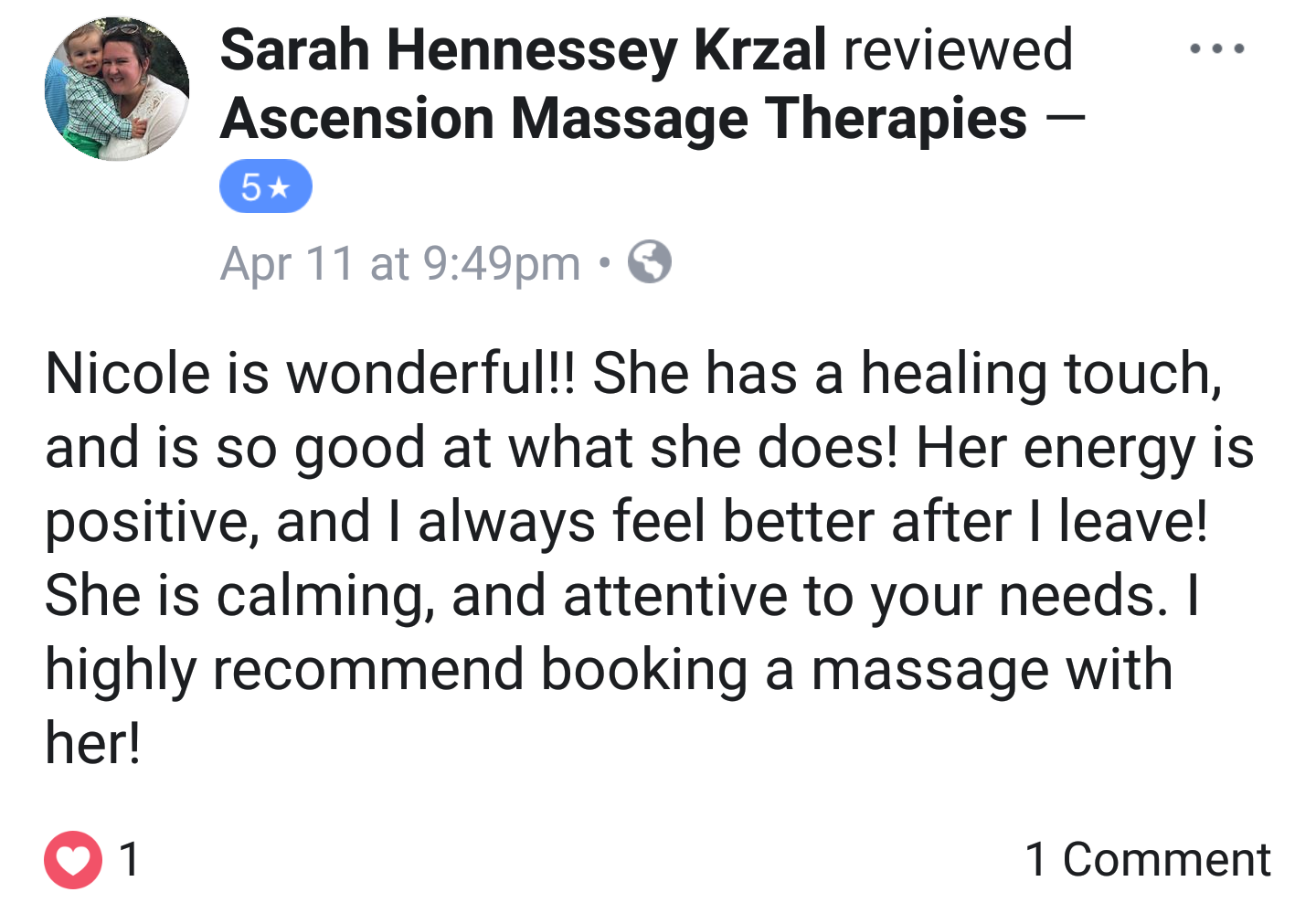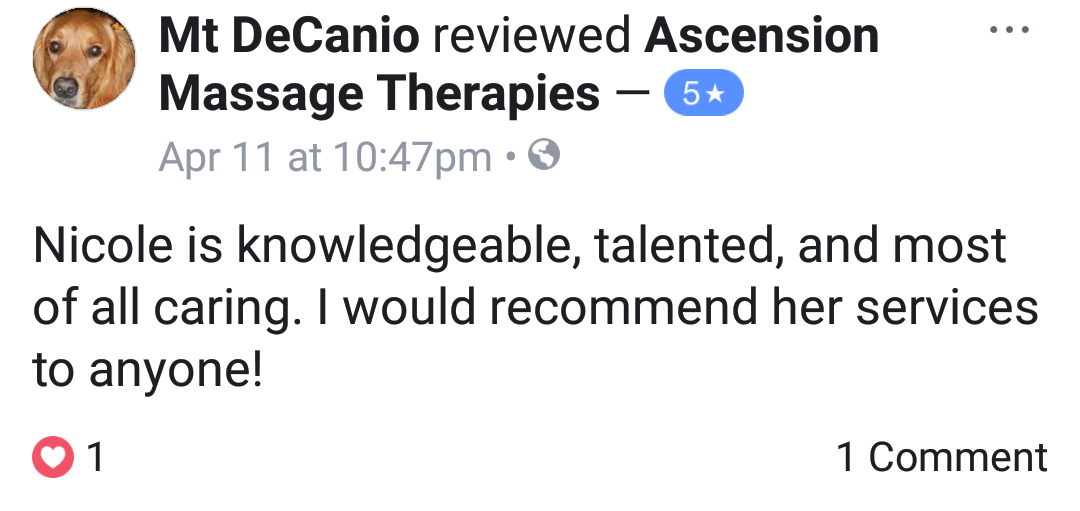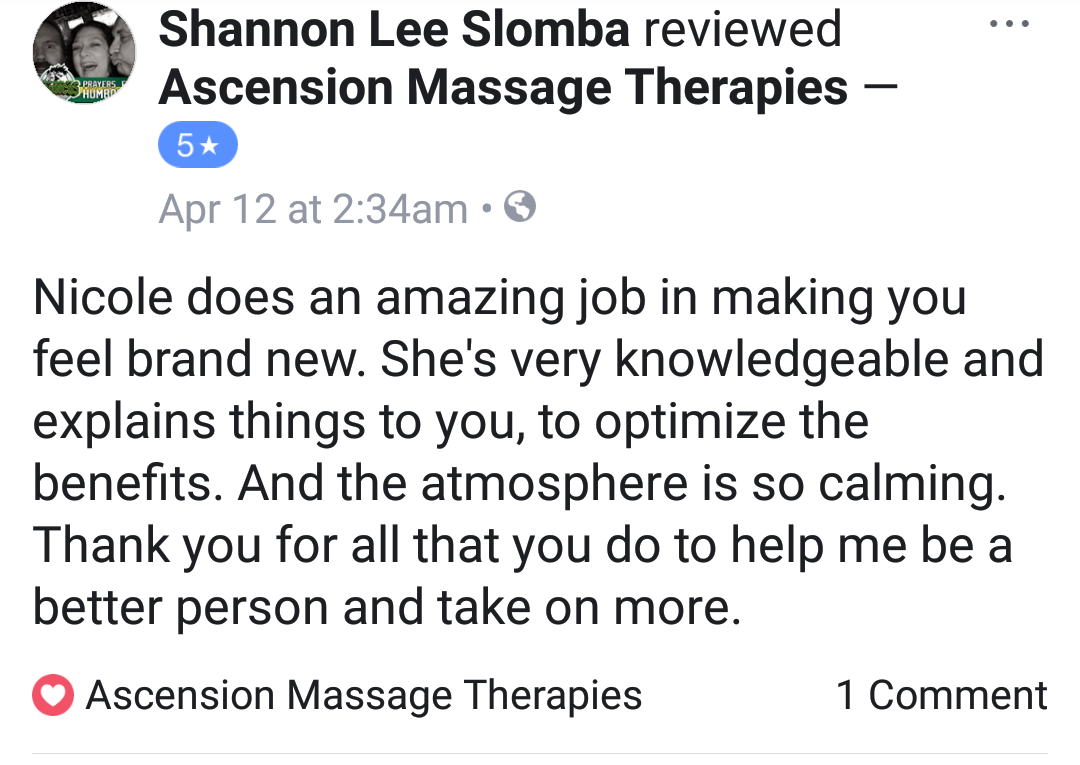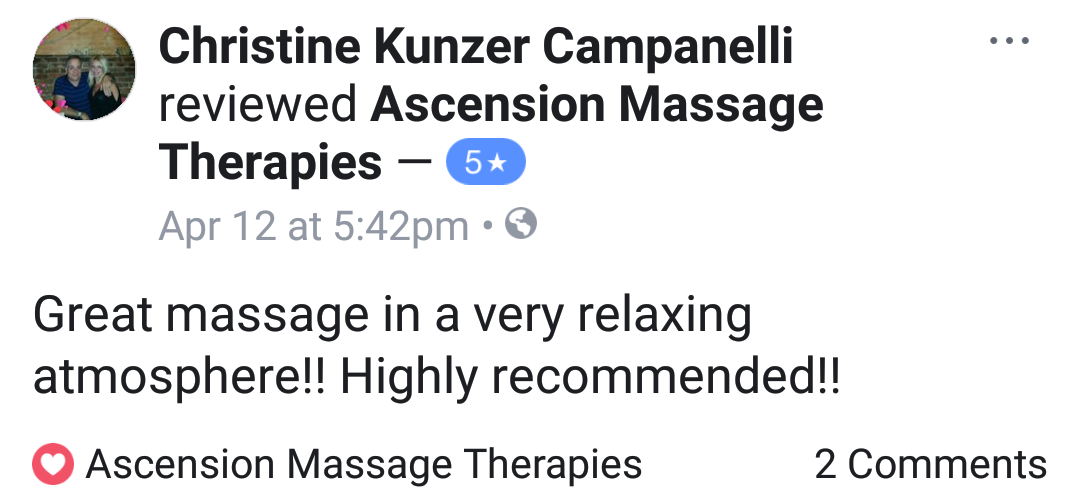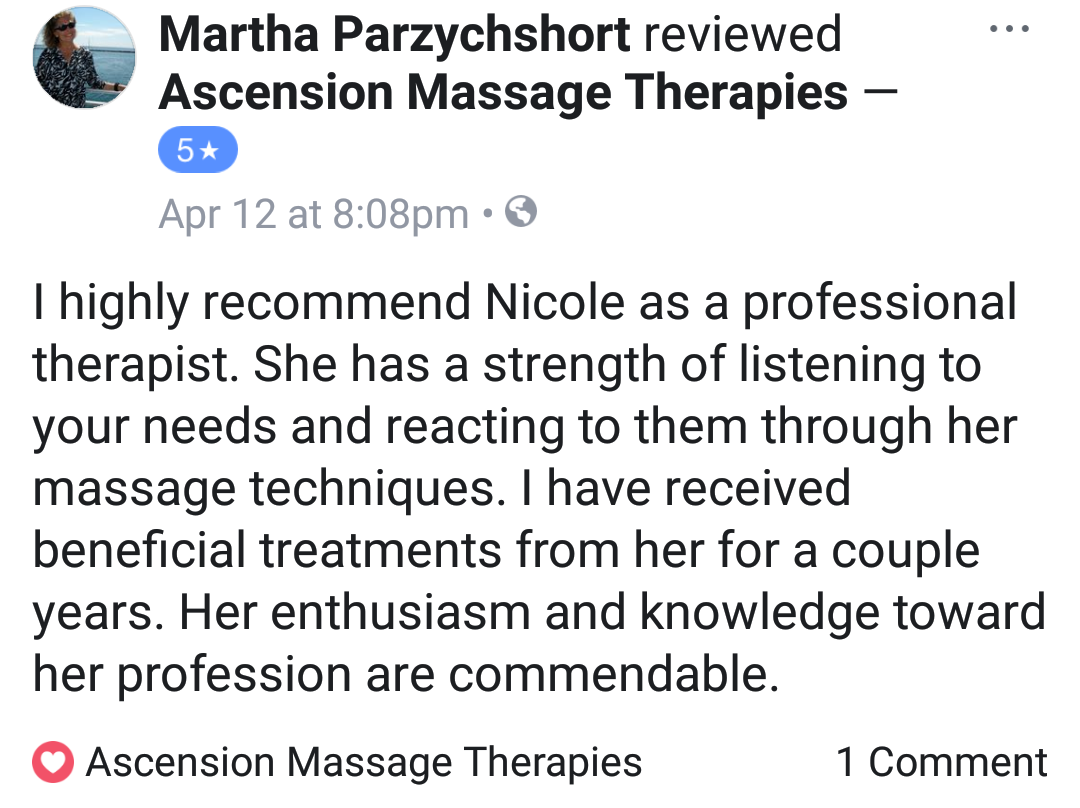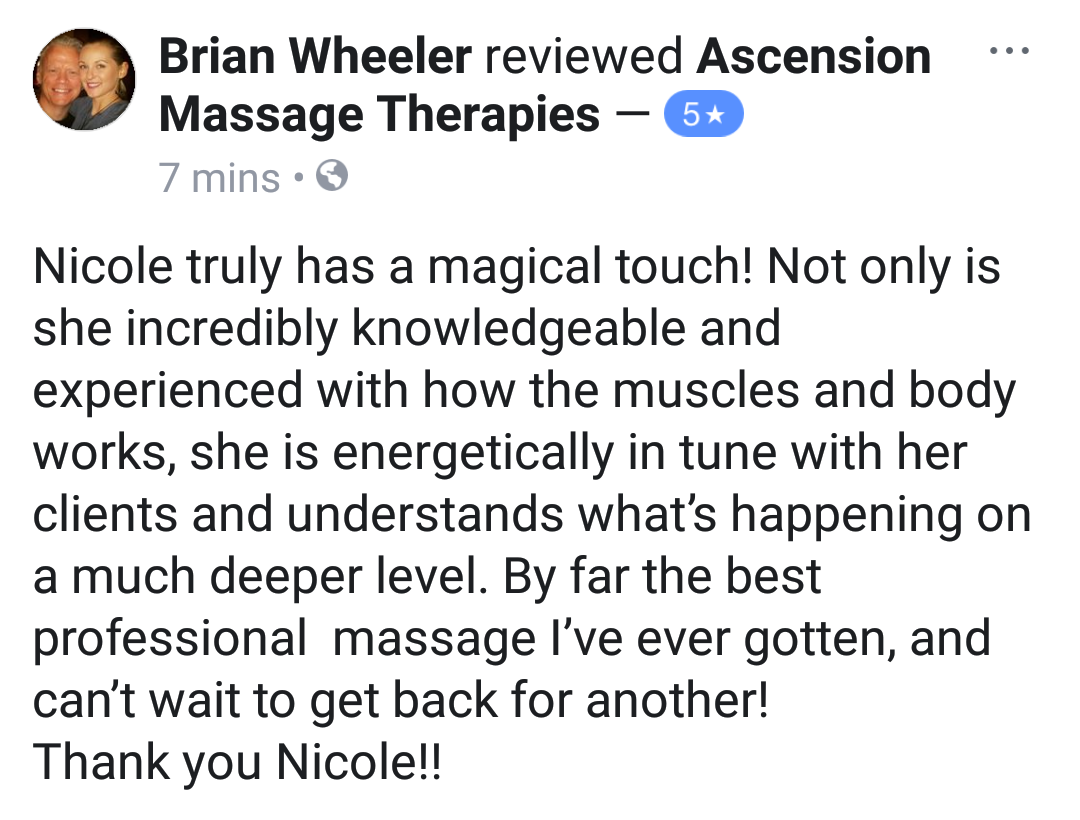 Kim B 5 Stars Oct 22, 2017
90 minute massage
Wow!! What an amazing experience. Tranquil, professional and welcoming atmosphere. Nicole has been blessed with a tremendous gift of healing. Her integrated techniques provided me with one of the most effective massages I have ever received. Can't wait to come back !! Thank you. Namaste ~ kim
Customer since September 2017
C.K.- 5 stars Jan 18, 2018
Nicole is amazing!!
The body massage from Nicole was wonderful! I wasn't feeling well that day and she addressed my sick belly with oils and heat pad while she worked on my neck. Then on to all my extremities and back. My belly was feeling so much better and my whole body said "Thank you, please do this again soon". I will! Thank you Nicole!!
Nicole is fantastic! She listens to what your aches or pains are and really tackles those spots. I'm always sore the next day but in a hurts so good way! She is absolutely amazing and I would recommend her to anyone!
Kelly M.
Elizabeth Schmidt reviewed Nicole Penkalski LMT — 5 star
August 13, 2017 ·
So glad I found Nicole! I've had 10 different LMT's work on me in the last 6+ months and several others over the years, NONE of them compare to Nicole's talent. She has found problem areas on my body others haven't and the best part: I feel so much better and I'm not in pain from the massage the day after!! I Highly recommend Nicole!
My husband had a lifetime of massages as an amateur boxer, sailor and body builder. When he had my Valentine's Day gift of a massage from Nicole, he told me it was the best massage he had ever received. Quite a statement after more than 55 years of massages. He had one a month after that!
Carl's wife
I enjoy my bi-weekly massages because they get the exercising knots out of my muscles, relax my body, and reduce my stress. It's my little gift to myself.
Carolyn G.
Karen Phillips-Young reviewed Nicole Penkalski LMT — 5 star
September 27, 2016 ·
Nicole is awesome!!! I have been seeing her for almost 5 years and she is a very talented LMT!
Nicole Swiatkowski was a great help to me in helpi
3 messages
---
Jeanne M.
5:47PM
Yesterday I had gone in for a regular session with Nicole, but I was suffering so bad with a massive headache lingering from a horrible migraine the day before. Nicole was so concerned, compassionate & caring about my symptoms that she helped me go from pain level of 10, 10 being the worst, to leaving at a 3 .... AMAZING!!!!!
I can't say enough about Nicole, except she is awesome!! I Knew the second I met her I would absolutely love her, and I do .... Also my son sees her and can not say enough good about her and he is a tough cookie....